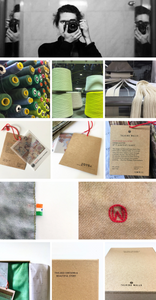 Talking Walls is by everyone

Each design in our collections is spotted by curious minds and world travelers. Our collections celebrate all the people that went out on the road to capture the beautiful graphics and their little stories. It also celebrates the people anywhere in the world that open up their hearts (and their front doors) to share a little bit of their stories. If our Talking Walls can be a little spark towards more diversity and cultural understanding, then next to be a comfortable and beautiful piece to wear, wearing a Talking Walls scarf is a powerful message.

Quality

All Talking Walls scarves are crafted at an Indian textile atelier with whom our stylists built a strong partnership throughout the years. Each time again, with their knowledge about colors and fabrics and their endless dedication, these craftsmen bring out the highest standards and the best materials we and you can possibly dream of.

Detail and story telling

Our products are authentic. And what is real has a story. This is why each and every piece in our collection gets the little story behind the graphic on the scarf, until even the original picture and gps-code that brings you back to the place where the design was found. And because each story is unique, we gave it a unique number. Finally as these stories are precious, we want to protect them as much as we can so we've put them in a ecofriendly box.

In the end, wearing a real story has more soul.
The story about the stories

The initial idea behind Talking Walls was initiated by Philippe Pelsmaekers, a former communications and design professional. He was struck by the craftsmanship, personality and artistic endeavor of the quaint and often humorous signs of small shops from around the world, that he wanted to meet the people behind them and share their stories. He jumped on a plane to India in search of the best tales.

Few years later, with the help of stylist and interior designer Trui Vermeire, and some of the most fantastic people on earth, Talking Walls puts the stories of the streets from four corners of the world on its collections, sells across Europe in about 500 of the finest high segment boutiques and expands to overseas markets.